25 August 2023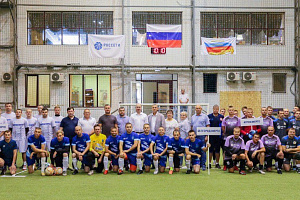 On 25 August, Stary Oskol hosted the first interregional friendly mini-football tournament among teams of branches of Rosseti Centre, PJSC, dedicated to the 80th anniversary of the victory in the Battle of Kursk.
The teams from the Bryanskenergo, Voronezhenergo, Kurskenergo, Lipetskenergo, Orelenergo branches and the host of the tournament, Belgorodenergo, took part in the competition. On behalf of General Director of Rosseti Centre, Igor Makovskiy, the players were greeted at the opening ceremony by Anton Gerasimov, Deputy General Director - Director of the Belgorodenergo branch, and Oleg Makarov, Chairman of the primary trade union organization of Rosseti Centre, PJSC.
The competitions were held in a round robin system. As a result of a stubborn struggle, the Voronezhenergo team won the bronze medal. Silver went to Bryanskenergo. The winner of the tournament was the team of Kurskenergo.
In the individual competition, Nikita Provotorov, a worker in complex maintenance and repair of buildings of Kurskenergo, was recognized as the best player in the competition, Artem Anpilogov, a master of a crew for operation of the distribution grid of Kurskenergo, was recognized as the best scorer, and Mikhail Voronov, a senior dispatcher of the operational and technological control section of the main grid of Bryanskenergo, was recognized as the best goalkeeper.
"Congratulations to the winners and all participants of the first interregional friendly futsal tournament! Support for sports initiatives and talented athletes is one of the priorities of the company's social policy. Teamwork, high skill and the will to win are important not only in sports - they are integral components of our difficult profession," stressed Igor Makovskiy, General Director of Rosseti Centre, PJSC.