23 August 2023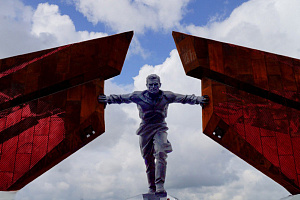 Today, on 23 August, on the day of the 80th anniversary of the victory in the Battle of Kursk, the grand opening of a new memorial complex dedicated to this great event will take place in the village of Ponyri.
The branch of Rosseti Centre - Kurskenergo completed the connection to the power grid of the main monument and other facilities on the territory of the complex: the power engineers carried out work on construction of a 10 kV cable line with a length of 900 m and a transformer substation with a capacity of 630 kVA. The facades of the feeding centre are decorated with images of fragments of the battles of the Great Patriotic War.
"The victory on the Kursk Bulge in the summer of 1943 turned the tide of hostilities of the Great Patriotic War, made it possible to launch a strategic offensive by the Soviet troops and brought closer the defeat of the army of the Nazi invaders. Hundreds of thousands of warriors died a heroic death in this great battle, finding their last refuge in the Kursk land. The feat of the participants in the Battle of Kursk has become a symbol of great courage, bravery, stamina and fortitude. Their memory will live forever in our hearts," stressed Igor Makovskiy, General Director of Rosseti Centre and Rosseti Centre and Volga region.