4 August 2023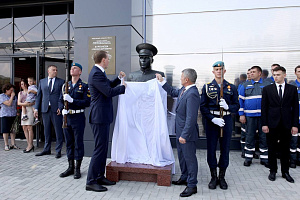 On 4 August, the 110 kV power supply centre "Razvitie" named after the Hero of the Russian Federation, Guard Captain Alexey Sergeevich Kurganov was put into operation. A bust of Alexey Kurganov located on the territory of the power facility was unveiled with military honours.
The ceremony was attended by Governor of the Ryazan Region Pavel Malkov and General Director of Rosseti Centre, PJSC - the managing organization of Rosseti Centre and Volga region, PJSC Igor Makovskiy.
The event was attended by the mother, wife and son of Alexey Kurganov, the command of the 106th Guards Airborne Division and the leaders of the Ryazan Guards Higher Airborne Command School, as well as power engineers from 20 regions. The participants honoured the memory of the Hero of Russia with a minute of silence and laid flowers.
"It is a great honour for us to name the most modern power facility in the Ryazan region after Alexey Kurganov, who passed away defending the interests of our Motherland. It is impossible to find a better example of personal heroism, unsurpassed courage and devotion to his country," said Igor Makovskiy.
"The new substation will bear the name of Alexey Kurganov in memory of his feat. This is a serious example for all of us. There will soon be a new, technological area, and it will work thanks to the electricity that will be supplied from this substation. This is one of the most modern digital power substations in our country, and the fact that it bears the name of a hero is very symbolic. I want to thank Rosseti for supporting the initiative and express my gratitude to the close relatives of Alexey Kurganov. A low bow," Pavel Malkov emphasized.