24 July 2023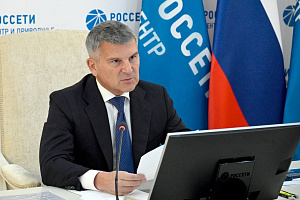 Igor Makovskiy, General Director of Rosseti Centre and Rosseti Centre and Volga region, held an operational meeting to discuss work aimed at preparing the electric grid complex for the upcoming heating period of 2023-2024. The head of the energy companies noted that the implementation of the activities of the Maintenance and Repair Program is under special control.
In total, the 2023 campaign, which involves 3,370 crews, will cover 4,107 km of 0.4-110 kV overhead lines and 9,805 10/6/0.4 kV transformer substations. At 1,801 35-110 kV power centres, current and major repairs of the main equipment will be carried out.
In addition, a large-scale clearing of 23,000 kilometres of routes along overhead power lines is planned. Poles are also straightened, foundations are strengthened, mandatory designations and numbering are restored.
By the beginning of August, the power engineers have already completed 70% of the annual work plan.
"The program for the maintenance and repair of electrical equipment is the most important stage in preparing the electric grid complex for winter. We are faced with the task of completing the implementation of the main measures, ensuring the staffing and constant readiness of forces and means for the season of increased loads, as well as maintaining a high level of reliability of power supply to residents of 20 Russian regions in the upcoming heating season," stressed Igor Makovskiy.