23 May 2023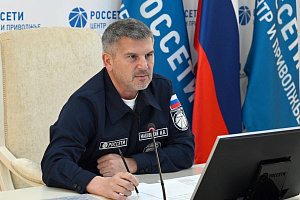 General Director of Rosseti Centre Igor Makovskiy held a meeting of the Special Operational Headquarters. The main topic was the situation in the Graivoronsky Distribution Zone of the Belgorod region, on the territory of which the mode of the counter-terrorist operation was in place.
The head of the energy company stressed that the operational situation in the district's power grid complex is under special control, and the unconditional priority is the preservation of life and health of people.
Along with this, the previously implemented measures for anti-terrorist protection of energy facilities and the introduction of special work regulations, including compliance with the strictest security measures, allowed Rosseti Centre's specialists to begin restoration work after the normalization of the situation.
"The unprecedented situation in the Belgorod region has once again proved that the border power engineers face tasks that require courage and high professionalism. The specialists of the border Distribution Zones have repeatedly confirmed that they possess these qualities, therefore they are ready to gather all the necessary forces and means in a timely manner and promptly begin restoration work," Igor Makovskiy emphasized.