2 August 2022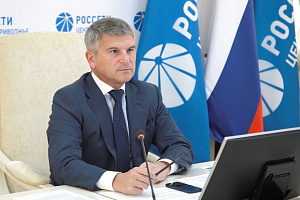 General Director of Rosseti Centre, PJSC - the managing organization of Rosseti Centre and Volga region, PJSC checked the progress of the annual equipment maintenance and repair plan.
During the first half of 2022, specialists of branches of Rosseti Centre and Rosseti Centre and Volga region repaired 5,301 6-10/0.4 kV transformer substations, 5,529 switching devices at 110/35 kV substations and 2,093 km of overhead lines of all voltage classes, where 12,552 poles and 89,740 insulators were replaced. To minimize the risk of damage to the lines due to falling trees on wires, the power engineers have already cleared 17,348 hectares of routes from trees and shrubs.
Particular attention is paid to the implementation of the repair program on the territory of 26 border Distribution Zones, on the stability of which the energy supply of 720 thousand citizens of the Russian Federation depends. At the same time, the work is accompanied by enhanced security measures for personnel.
"Timely and high-quality implementation of the repair program allows us to prepare the power grid complex for uninterrupted operation at low temperatures and ensure reliable power supply to consumers in 20 regions. Territories of border Distribution Zones, where personnel work in conditions of increased risks, are no exception. We must carry out all the necessary measures at a high level to pass the maximum loads in the autumn-winter period without failures," Igor Makovskiy stressed.