29 July 2022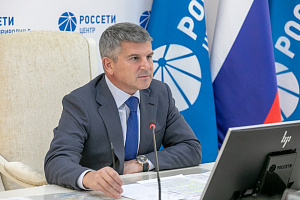 At a meeting of the Special Operational Headquarters, the participants of the infrastructure special project reported to Igor Makovskiy, General Director of Rosseti Centre and Rosseti Centre and Volga region, on the results achieved.
To date, the company's specialists have restored a 110 kV overhead line with a length of more than 20 km, eliminated wire breaks and damage to pole elements. The 110 kV Gorod-8 substation, 5 distribution points and 35 transformer substations were energized.
6 distribution points, about a hundred transformer substations, dozens of overhead and cable lines with a total length of more than 130 km have been prepared for operation.
During the meeting of the Headquarters, the head of the company emphasized that thanks to the power engineers, more than 16,000 residents of the Livoberezhny district of the city of Mariupol were able to turn on the light in their homes. Such socially significant facilities as a secondary school, two kindergartens, two sewage and pumping stations and one water pumping station, a hospital, a park, a communication tower, a humanitarian centre, and five central heating points were powered.
"Ensuring uninterrupted power supply in the liberated territories is a priority task, the fulfillment of which largely determines their further development. The group of power engineers of Rosseti Centre and Rosseti Centre and Volga region restores power supply in a short time and takes part in the preparation of the power grid infrastructure for the trouble-free passage of the heating season," stressed Igor Makovskiy.