30 June 2022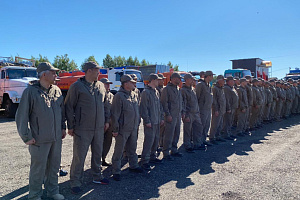 In Kursk, the 1st stage of exercises to test the collection of forces and means of a rapid deployment grouping (RDG), carried out on behalf of Igor Makovskiy, General Director of Rosseti Centre, PJSC and Rosseti Centre and Volga region, PJSC, was completed. In total, 194 people and about 100 vehicles from 11 regions of the country were mobilized.
"Energy Special Forces" are able to move to any specified point in a short time to solve core tasks, in particular, to carry out emergency recovery work, being in a completely autonomous mode. For this, the RDG is equipped with everything necessary. The grouping is led from a KamAZ-based headquarters vehicle, which is equipped with a satellite system and other equipment with the capability to control it anywhere in the absence of cellular networks and communications.
"Power engineers are always ready to respond to any, even the most unpredictable situations. To do this, we have the necessary resources, competencies and technologies, having strengthened our position by creating a completely new unit - the Rapid Deployment Grouping. The past training confirmed that the RDG is fully within the tight deadlines for mobilization, and is also able to ensure autonomous functioning and performance of specialized tasks," stressed Igor Makovskiy.