21 June 2022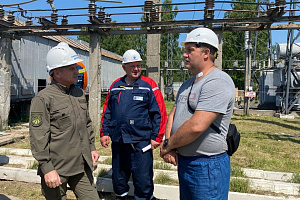 Today, 21 June, Igor Makovskiy, General Director of Rosseti Centre and Rosseti Centre and Volga region, made a working trip to the Sevsky Distribution Zone of Bryanskenergo and JSC Bryanskelectro, where a 110 kV substation and buildings of the base of the Suzemsky section of the Sevsky Distribution Zone were damaged as a result of artillery shelling the day before, which led to a power outage to consumers in the Suzemsky district of the Bryansk region.
The head of the energy company noted that despite the massive fire damage to equipment, which our power engineers have not yet encountered in modern history, the restoration of power supply took place as soon as possible. Based on the results of the inspection, Igor Makovskiy decided to install additional fences around power transformers to protect against shrapnel damage.
Meeting with the Distribution Zone's team, the head of the company thanked the employees for their selfless work and presented certificates of honour to the officer on duty, who was injured at the 110 kV Suzemka substation, and to the employee of the Russian Guard, who, during the period of service, led the wounded man out of the shelling zone and provided him with first aid.
Igor Makovskiy also talked with family members of an employee of the Sevsky Distribution Zone, whose house was damaged due to shelling, and once again stressed that they were guaranteed all-round assistance and support from the Companies.
"The operational situation in the border areas is characterized by a high frequency of fire incidents. Under these conditions, the quality and reliability of the functioning of the electric grid complex largely depends on the teams of border Distribution Zones, on their mood, morale and readiness to fulfill their duty. For our part, we are doing everything to ensure maximum safety and guarantee high social security for each employee," stressed Igor Makovskiy.