22 June 2022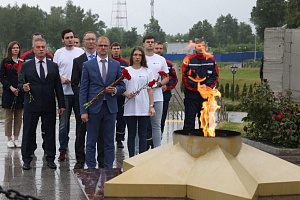 On 22 June, the Day of Memory and Sorrow, patriotic actions are held throughout the country. Specialists of Rosseti Centre and Rosseti Centre and Volga region take an active part in them: they lay flowers, light Candles of Memory, and also help in beautifying monuments to fallen soldiers.
In Tula, employees of Tulenergo and Ryazanenergo laid flowers at the first in Russia memorial to the heroes of the power industry, erected on the 75th anniversary of the Great Victory, and honoured the memory of the dead with a minute of silence.
Employees of Tverenergo supported the patriotic action "Unconquered", joining the solemn meeting of the world's largest Banner of Victory in the city of military glory Rzhev. The main symbol of the Victory, which is over 2,000 sq.m., was solemnly unfolded by the power engineers, together with other participants of the action, on the square in front of the memorial to the Soviet Soldier. The power engineers also laid flowers here.
"We bow our heads before the millions who died in the Great Patriotic War, remember the heroism of the soldiers-liberators and home front workers. We will always remember what a high price they had to pay for the salvation of mankind, for our future and freedom. We bow to the generation of winners, which, without flinching, has gone through a harsh and heroic path!" emphasized Igor Makovskiy, General Director of Rosseti Centre and Rosseti Centre and Volga region.