17 June 2022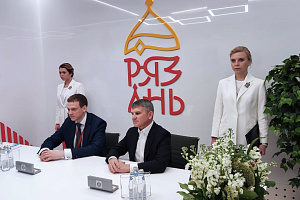 At the site of the 25th St. Petersburg International Economic Forum, Igor Makovskiy, General Director of Rosseti Centre, PJSC - the managing organization of Rosseti Centre and Volga region, PJSC, held meetings with the governors of the Belgorod, Lipetsk, Kirov, Tver, Ryazan regions and the Republic of Mari El, and also signed Agreements on long-term cooperation of the Companies with two constituent entities of the Russian Federation.
According to the documents, Rosseti Centre and Rosseti Centre and Volga region will submit long-term comprehensive Programs "Development of street lighting, the creation of a unique appearance of buildings and architectural monuments" for consideration by the regional governments.
Together with the Government of the Ryazan region, a project will be developed to construct and modernize outdoor lighting networks and create a comfortable urban environment.
"The Ryazanenergo branch is the leading power grid company in the region. We appreciate the contribution of power engineers to the development of infrastructure and see further prospects for cooperation. Now our common task is to make the Ryazan region prosperous. The region has a huge potential, including tourism - after all, Ryazan is a very beautiful city with a rich history. The implementation of architectural illumination of buildings will decorate the regional centre, making it even more attractive to tourists, and high-quality lighting of roads and settlements will create comfortable and safe living conditions for all Ryazan residents," stressed Pavel Malkov, Acting Governor of the Ryazan Region.
In the Kirov region, as part of the Program, the electric grid company plans to decorate the capital of the region with festive illumination for the 650th anniversary of the city, which will be celebrated in 2024.
"Today we discussed issues of an important direction for us - the organization of street lighting and festive illumination for the anniversary of the city. By joint efforts, I am sure, we will make our region more comfortable and brighter," stated Alexander Sokolov, Acting Governor of the Kirov Region.
"The power engineers are ready to provide high-quality services not only in the main specialization - ensuring reliable and high-quality power supply to consumers. We have sufficient practical experience and high competencies in the implementation of outdoor lighting projects and the improvement of public spaces. The agreements signed today give us the opportunity, with the support of the Governments of the Kirov and Ryazan regions, to develop a set of proposals for the implementation of this type of service to make the life of citizens safer and more comfortable," Igor Makovskiy emphasized.