16 May 2022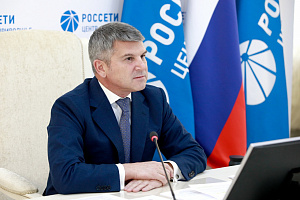 Igor Makovskiy, General Director of Rosseti Centre, PJSC - the managing organization of Rosseti Centre and Volga region, PJSC, at a meeting summed up the work of the power engineers to eliminate the consequences of adverse weather events in the Central Federal District, thanked them for their quick response and selfless work.
Please, be reminded that on 12 May, an atmospheric front passed over the territory of the Bryansk, Kursk, Orel and Smolensk regions, accompanied by a storm wind reaching 27 m/s in places, thunderstorms and heavy rains with hail. The employees of the energy company were mobilized in advance and provided with all the necessary forces and means to eliminate technological violations, and temporary information centres for work with the population were deployed. In the branches of Rosseti Centre, PJSC a high alert mode was introduced, and later, by the decision of the Headquarters, a special mode of operation was introduced.
In the Bryansk and Kursk regions, a total of 304 emergency recovery crews, including 1,210 people and 417 vehicles, came out to combat the consequences of the disaster. Also, additional forces and means from Belgorod, Voronezh, Lipetsk, Ryazan, Smolensk, Tambov and Tver were quickly sent to the Bryansk region - a total of 35 crews. First of all, socially significant institutions and communal infrastructure facilities were powered.
The head of the company emphasized that the built, constructive dialogue within the framework of interdepartmental interaction with the Main Departments of the Ministry of Emergency Situations of Russia, authorities and the Unified Contact Centre allowed the power engineers to quickly receive information about technological violations, responding and eliminating them as quickly as possible.
"The specialists of the Companies implement measures for planned preparation for emergency situations, maintain a constant exchange of information with regional bodies of the Ministry of Emergency Situations and municipalities, process all requests from the population without exception in order to promptly mobilize the necessary forces and means, respond in a timely manner to technological violations and prevent mass outages of consumers, ensure the stable operation of the power grid complex," stressed Igor Makovskiy, General Director of Rosseti Centre and Rosseti Centre and Volga region.