30 April 2021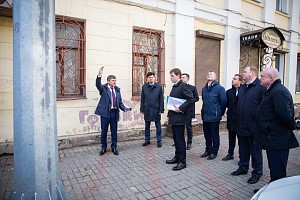 General Director of Rosseti Centre — the managing organization of Rosseti Centre and Volga Region examined in Nizhny Novgorod the progress of work on the reconstruction of overhead lines with their transfer to cable ones, replacement of poles, provision of power grid infrastructure for the Switzerland culture and recreation park, as well as the reconstruction of grids in the Sormovsky district.
By the festive date, power engineers will replace 308 power line poles, repair facades of 173 transformer substations and paint 45 overhead power line poles of 110 kV on 38 central streets of the historical part of the regional centre.
In addition, the employees of Rosseti Centre and Rosseti Centre and Volga Region, within the framework of municipal contracts, will reinstall 20 kilometres of outdoor lighting overhead lines for cable ones, replace 460 poles and install an additional 62 poles.
Currently, work is underway to reconstruct cable and overhead lines in the Nizhny Novgorod, Prioksky and Sormovsky districts of the city.
«By the 800th anniversary, our company is implementing a whole range of measures to improve the reliability of power grid facilities in Nizhny Novgorod. At the same time, we pay special attention to facilitating work on the creation of a modern urban environment: we are modernizing the power grid infrastructure of recreation sites, reconstructing power lines, and performing grid connection of power facilities that supply parks and squares. All these measures will make it possible to emphasize the city's individuality, will contribute to a change in the level of safety and comfort of staying in the capital of the Volga Region for residents and guests of the city,» stressed Igor Makovskiy, Head of Rosseti Centre and Rosseti Centre and Volga Region.