21 April 2021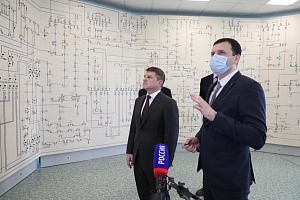 Today General Director of Rosseti Centre and Rosseti Centre and Volga Region checked the state of production facilities of «Ivanovo City Electric Grids» and discussed topical issues of the development of the Ivanovo power grid complex with the staff of the company and the Ivenergo branch.
The head of the energy company elaborated on the upcoming tasks that the organization's employees will jointly solve with Ivenergo. Please, be reminded that in early April 2021, Ivgorelectroset entered the functional area of responsibility of Rosseti Centre. During the meeting, measures were discussed to improve the reliability of power supply to residents of the regional centre, reduce losses in grids, implement smart metering devices, as well as a program for development of outdoor lighting in Ivanovo.
«Employees of "Ivgorelectroset" are professionals of the highest level who, like no one else, know all the peculiarities and nuances of the city's grid facilities. The creation of a single centre of responsibility on the basis of Ivenergo and city grids will effectively solve the issues of high-quality and uninterrupted power supply to the population of the regional centre. And for the Ivgorelectroset team, the transition to Rosseti's standards is an increase in social security and additional conditions for labour motivation,» stressed Igor Makovskiy, Head of Rosseti Centre and Rosseti Centre and Volga Region.