19 April 2021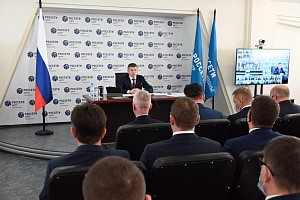 Centre and Volga Region, within the framework of a working trip to the Tambov region, visited the Rasskazovsky Distribution Zone of Tambovenergo and held an extended meeting on improving control over labour protection of the company's employees. It was attended by the management of 20 branches, employees of the Chief Engineer's unit of the Companies, as well as heads of Distribution Zones in the video conferencing mode. Within the framework of the meeting, the situation with injuries in the branches, measures to reduce the risks of accidents and targeted proposals for improving work in the field of labour protection were discussed in detail.
General Director of the energy companies emphasized the personal responsibility of managers, officials of the branches and Distribution Zones in the field of improving industrial safety.
He instructed to carry out additional measures to prevent injuries, organize meetings with staff, improve the level of professional training of employees in the field of labour protection. Particular attention was paid to implementation of the concept of zero injury.
«It is important to build effective partnerships with employees that will contribute to unconditional compliance with the established procedure for work in electrical installations, form the principles of inadmissibility of violations. It is necessary to propose methods to change the way of thinking of personnel, and sometimes psychology, to move to a higher level of production culture,» stressed Igor Makovskiy, General Director of Rosseti Centre and Rosseti Centre and Volga Region.