31 May 2016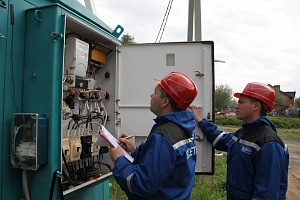 IDGC of Centre summed up the implementation of measures for 4 months of 2016 to curb non-metered and non-contractual electricity consumption.
During a large-scale raid operation conducted by staff of Distribution Zones and electricity metering offices of branches, including jointly with specialists of the security unit in the service area of IDGC of Centre (11 subjects of the Central Federal District) 4,149 cases of illegal consumption of electric energy were detected. The total amount of identified non-metered and non-contractual consumption was 58.97 million kWh, the amount of damage - about 161.2 million rubles.
Particular attention was given to work with troubled consumers. Their check was preceded with thorough preparation and briefing of participants of raids by specialists of security units.
Power engineers took measures to compensate the damage to the company. So for 4 months in 2016 it received more than 126 million rubles under 3,676 acts of non-contractual and non-metered consumption. In other cases the debt will be forced to be levied, in the courts, with the laying on perpetrators of all court costs. Currently, IDGC of Centre's specialists are doing claim-related work on all the facts of non-contractual electricity consumption.
Moreover, on the facts of unauthorized electric energy consumption, revealed by the security unit of IDGC of Centre, claims were filed to law enforcement agencies. According to claims considered criminal proceedings were initiated on grounds of crimes under Art. 165 of the Criminal Code "Causing damage to property by deception or abuse of confidence in the absence of signs of theft."
So, 20 January 2016 there was a criminal case under Part. 2 Art. 165 of the Criminal Code in connection with the unauthorized connection to electric grids in June 2015 in Yaroslavl of LLC "Building Company" Megastroy". At the present time the investigation is ongoing. At the same time, 21 March 2016 the Arbitration Court of the Yaroslavl Region decided to recover from the offender in favour of IDGC of Centre damages in full.
9 and 10 February 2016 criminal cases were initiated under Para. "B" Part 2 Art. 165 of the Criminal Code in relation to managers of LLC "Torzhokskaya Energy Sales Company" on the fact of causing damage to property (evasion from payment for IDGC of Centre's services) in especially big amount. Currently the cases are being processed for the court.
Raids to identify cases of illegal grid connection and non-metered energy consumption are carried out in all branches of IDGC of Centre on a regular basis, within the framework of systematic work aimed at strengthening control over the implementation of the action plan to reduce risks of uncontrolled load growth, detection and suppression of non-contractual electricity consumption. The funds levied from the defaulters, the company spends including to finance the core production activities, which is especially important due to the reduction in recent years because of the crisis of investment sources.