24 May 2016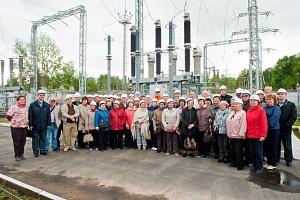 Representatives of the Council of Veterans of War and Labour of the Ministry of Energy of Russia visited the Bryansk region last week. The visit was organized by employees of IDGC of Centre - Bryanskenergo division in the framework of activities of the veteran organization, dedicated to the 71st anniversary of the Victory in the Great Patriotic War. The guest delegation included specialists, who during their work in the department had close contacts with power engineers of Bryanskenergo.
The employees of Bryanskenergo organized a tour for veterans of the Ministry of Energy to the substation "Gorodischenskaya". Then they met with representatives of the veteran organization of the enterprise.
Opening the meeting, Deputy Chief Engineer for management of productive assets and development of Bryanskenergo Boris Tretyakov told the audience about the history of the Bryansk power grid, Bryanskenergo's activity at present and the most important events in the region's electric grid. The chief of the substation service of the high-voltage grid office of Bryanskenergo Vladimir Savvin acquainted the guests with the design of the substation "Gorodischenskaya". He said that the power facility is the supply centre of a major shopping mall "Aeropark", which daily serves residents of the Bryansk, Orel and Kursk regions, as well as a new residential complex, located in Naval Street in Soviet district of the city of Bryansk. In 2014 the modernization was carried out at the substation, necessary to meet the energy demand of consumers of dynamically growing districts of the regional centre, adjacent to the substation "Gorodischenskaya".
The head of the delegation of the Council of Veterans of the Ministry of Energy Igor Novozhilov, who had the post of Chief of Glavenergo of the Ministry of Energy noted that Bryanskenergo actively develops. The company uses advanced technologies, has highly skilled personnel, while maintaining the continuity of generations. The veterans remembered their career making, talked about new technologies that are now used in the energy sector, and provide new opportunities for the industry development.
Then the meeting was continued in a roundtable format, where the delegation members exchanged experience, shared their developments and discussed the solution of social problems of veterans.
During the round table the gathered paid particular attention to the interaction between veteran organizations and further prospects of such meetings. The event gave representatives of the two veteran organizations the opportunity, in addition to the exchange of experiences, to identify ways of further cooperation in activities aimed at ensuring the continuity of generations, the energy trade popularization.