20 May 2016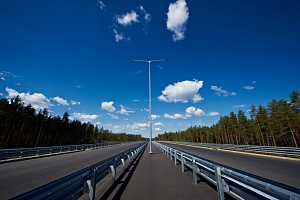 About 26 kilometres of overhead lines of 10 kV and 11 kilometres of cable lines of 10 kV will be constructed by specialists of IDGC of Centre - Tverenergo division for 2016 to meet the needs of the being built in the region section of the new highway M-11 "Moscow - St. Petersburg".
Construction of new power lines from feeding centers of the Tver branch of IDGC of Centre to power installations of the federal highway M-11 will be performed in Bologovsky district of the Tver region. In addition, the transformer capacity will be increased at the 35/10 kV Zaozernaya Substation.
Please, be reminded that last year for the needs of the highway M-11 "Moscow - St. Petersburg" overhead lines of 10 and 6 kV with a total length of 40 km were constructed, as well as cable lines of 6 and 10 kV with a total length of over 11 km.
"This project has a federal status, therefore is a priority for IDGC of Centre," explained First Deputy General Director - Chief Engineer of IDGC of Centre Alexander Pilyugin. "Realizing the importance of this project, the company's experts are making all necessary efforts to complete the work on time."