21 November 2014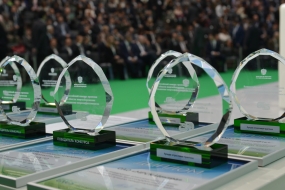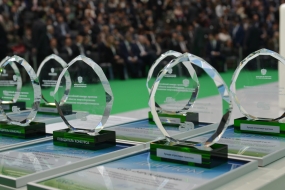 IDGC of Centre's project - "Integrated Management System in the field of energy efficiency and saving" won an award at the ENES 2014 in Moscow. Deputy Prime Minister Arkady Dvorkovich presented a diploma to General Director of IDGC of Centre Oleg Isaev within the All-Russian Conference of Regions on energy efficiency and saving.
The integrated management system for energy efficiency and saving was developed and implemented by the Company in 2011. During this period the company's energy efficiency increased by 26%. Along with it the decrease in electricity losses amounted to 5.7% and by 2017 is expected to be 11%. At the moment, the economic effect achieved 1.5 billion rubles, and in the period of 2015-2019 it is expected to be 2.4 billion rubles.
This management system is integrated into all functional activities of IDGC of Centre: this is the company's technical policy and procurement, investment, operation and interaction with customers, public relations, personnel management, aggregation functions, and institutional development. It includes implementation of international best practices (benchmarking) and the international standard ISO 50001 and meets the requirements of JSC "Russian Grids" and the Russian Ministry of Energy. Within the technical policy the System dictates requirements to purchase equipment, as well as bans on the use of outdated technologies. In forming the investment program it evaluated projects in terms of energy efficiency.
In addition, the management system includes informing consumers on energy efficiency issues. Among the projects that have been developed and implemented in 2014, the project "Lessons of energy efficiency" deserves special attention. It is thematic lectures about the basic rules of energy conservation in the home. The project is implemented in secondary schools in 11 regions of the service area of IDGC of Centre.
At the ENES 2014 forum IDGC of Centre's representatives took part in several events. In particular, First Deputy General Director - Chief Engineer of IDGC of Centre Alexander Pilyugin became a member of a panel discussion on "Managing energy efficiency in state-owned companies: the requirements of the state as an owner".
Deputy Chief Engineer for Development and Innovation of IDGC of Centre Dmitry Rybnikov participated in a meeting on "Areas with low population density: the search for new solutions for the development of infrastructure and quality of life".
The International Forum in Energy Efficiency and Energy Saving was held for the third time. More than 30 events were conducted within the business program: discussions, meetings of experts, meetings of specialists, round tables and workshops. In total the forum was attended by about seven thousand people and more than 100 Russian and foreign companies.