10 October 2014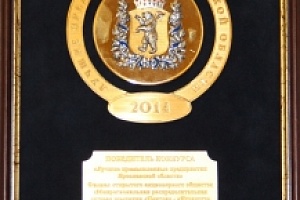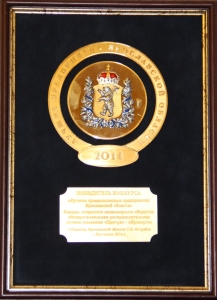 IDGC of Centre - Yarenergo division became the winner of the contest "Best Industrial Enterprise of the Yaroslavl region" in the industry group "Fuel and Energy Sector".
The contest was held by the Department of Industrial Policy of the Yaroslavl region to identify companies that achieved the best results in the industrial, financial and innovative activity in 2013. The jury assessed the companies in terms of their efficiency, economic potential, creating an investment climate and social care. Subjects of business were recognized winners in their categories, which could make the most valuable contribution to the development of the regional industry.
Yarenergo is the largest electric grid company in the region, the service area of which includes 90% of all electricity consumers in the Yaroslavl region. Implementing the strategy of development of the distribution complex of JSC "Russian Grids", power engineers of the branch increase the reliability of electricity supply in all sectors of production, social and strategic facilities, provide high-quality electricity to urban and rural residents. With its efforts Yarenergo reduces time to connect new customers, implements energy saving technologies and remote metering. Technical staff of the company quickly eliminates failures caused by adverse weather conditions, if necessary, involving colleagues from other regions to restoration operations.
"I am grateful to the organizers of the competition for the high appreciation of our labour. We really are the leaders in our industry. In this regards Yarenergo is ready to undertake the work, which other grid organizations cannot cope with. Our immediate plan is to consolidate 100% of power grid facilities in the region, as a result of which a single point of responsibility and quality of service throughout the Yaroslavl region will be implemented," stressed Head of Yarenergo Konstantin Kotikov.