6 October 2014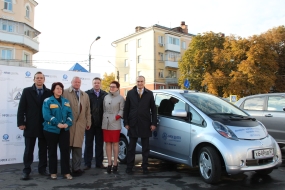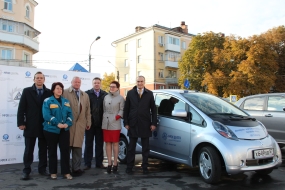 October 6, 2014 IDGC of Centre - Orelenergo division launched a large-scale project "The motor rally of energy efficiency", in which power engineers will attend schools in 24 Distribution Zones, where they will tell children about innovative and energy-saving technologies.
"Such a car appeared in IDGC of Centre - Orelenergo division one of the first. With its help Orel power engineers not only popularize eco-friendly and energy-saving technologies, but they will also be able to demonstrate their effectiveness," stressed Deputy General Director of IDGC of Centre - Orelenergo division director Muhammad Bogatyrev.
Within the project the electric vehicle not only delivers power engineers to the place of employment, but also serves as a showpiece and a prototype during lessons on energy saving. Children will be able to visually examine the device and functionality of a greener car, as well as to drive it. The power engineers will describe in detail the principles of fuel economy, environmental impact of this type of transport compared to the petrol counterpart.
"According to preliminary calculations, the electric vehicle will travel more than 1,000 kilometers and consume only 231 kilowatts of electricity for about of 800 rubles. In the gasoline equivalent the fuel would have cost us more than 3500 rubles. Thus, the electric vehicle allows for 4.5 fold reduction in fuel consumption for the same efficiency. As part of the motor rally we also want to determine under what conditions and for what tasks such vehicles can be used by our company," clarified Chief Engineer of Orelenergo Igor Kolubanov.
During "The motor rally of energy efficiency" employees of the power company together with children will follow the dynamics of reduction of the harmful impact on the environment and fuel consumption. The web-site of IDGC of Centre will have an interactive map, on which the electric vehicle route will be marked through districts of the region, places to visit, the number of participants and photos.
The project "The motor rally of energy efficiency" will end November 11 - on the International Day of Energy Saving. During the official meeting total energy savings will be calculated and results of the useful effect on the environment will be summed up.