1 October 2014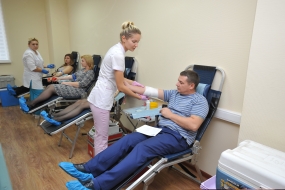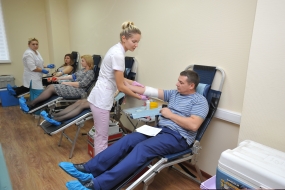 October 1, the annual charity Donor Day event took place in the executive office of IDGC of Centre. The action, organized in conjunction with the Blood Centre of the Federal Medical-Biological Agency, was attended by 25 employees.
In total more than 11 litres of blood were collected, which will be used in hospitals attached to the Centre.
This is the third event on the blood collection, carried out at IDGC of Centre. The first action took place on 1 August 2012. Then the company's employees expressed a desire to make these shares every year. The power engineers are sure that everyone is able to contribute to saving lives, helping people with severe cancer and hematological diseases, so they regularly respond to the call to participate in a donor action.