12 September 2014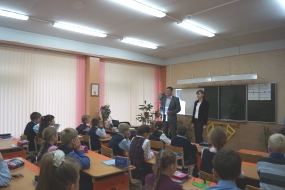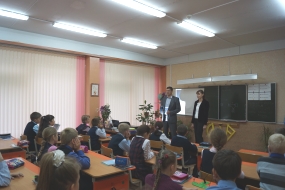 Specialists of IDGC of Centre - Smolenskenergo division in early September conducted the first lessons on energy saving in three schools of Smolensk. The basis of the lessons was one of the works-winners of IDGC of Centre's "Energy saving: about complex in a simple way" on the best class on the subject of energy-efficient lifestyles among school-age children.
The purpose of these lessons is to attract children's attention to the issues of conscious and rational use of electric energy, as well as to acquaint them with effective ways to save energy.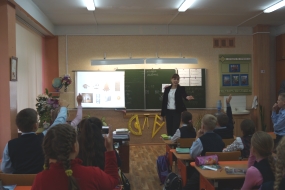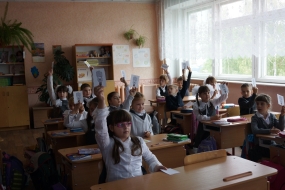 The first five sessions were held in Smolensk at schools #17, #32, and #36 for the second, third and fourth grades. In total the classes were attended by about 120 schoolchildren.
During the lesson the pupils of the second grade together with the character "Electrosha" went on a "Journey to the Energy Saving Land", visiting the city of WATER, HEAT, ELECTRICITY and ENERGOcity and performing various game tasks during the trip. The whole journey was accompanied by colourful slides, drawings and fun activities. So one of the tasks for the second graders were quiz game to respond to which the children were to use two cards with the image of a lit light bulb, or off, indicating the "right" or "wrong" result. For the third and fourth graders the specialists of Smolenskenergo conducted a team "collect a puzzle" game. During the lessons the children actively answered the questions and performed the game tasks on "Energy Saving".
The most exciting stage of training for many was to get acquainted with the thermal imager. The children first saw the device, which allows to determine heat losses in buildings, they were able to hold it in their hands and look at the thermal spectrum of the surrounding objects. In addition, the children were shown an energy-saving light bulb and explained its advantages over conventional incandescent lamps. At the end of the lesson the power engineers gave all the children timetables with the company logo and congratulated on the new school year.
"The experience of the lessons showed that even in the process of co-creation and solving the problems it was difficult for the children to do without being told. It proved once again that too rarely we do think about energy saving, we are not used to carefully and sparingly refer to energy resources. We hope that conducting lessons on energy conservation among schoolchildren from now on will become a yearly tradition," stressed the head of energy conservation and efficiency Dmitry Serenkov.