5 September 2014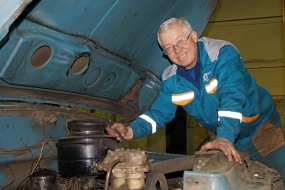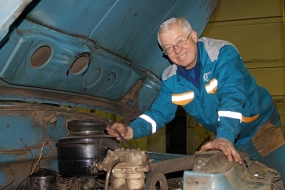 According to the Decree of the President of the Russian Federation, Vladimir Ryabykin, a car repair mechanic of the Central section of the mechanization and transportation service of IDGC of Centre - Kurskenergo division was awarded the medal "For Service to the Motherland" of degree II.
As stated in the document, the power engineer was honoured with the highest award for his labor achievements, social activities, and many years of diligent work.
Vladimir Ryabykin came to work at Kurskenergo as a young professional for the position of an electrician, his continuous service in the industry is 40 years. He took an active part in the development of new technologies, techniques, maintenance, repair and operation of vehicles. Rationalization proposals of Vladimir Ryabykin in equipment diagnostics, implemented in Kurskenergo, helped reduce troubleshooting time by 7% to decrease the cost of repair of automotive equipment.
Subsequently, the Ryabykin's repair procedure was implemented in many Distribution Zones of Kurskenergo, where it also got good results.
Vladimir Ryabykin is an active mentor to young people, teaching them to modern methods of repair and maintenance of vehicles. Over the past two years he trained three new employees for their independent work.