19 May 2014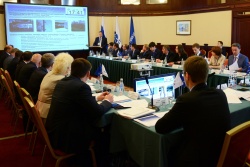 IDGC of Centre held the annual final production meeting, which summed up the work in 2013 and discussed the progress of the targets set for the current year on the main directions of the company.
According to the results of the operated through autumn and winter period there were no accidents and major technological failures in the branches of IDGC of Centre. Repair and maintenance programs were implemented in full. In 2013 the company successfully addressed priorities to improve the reliability and quality of service, operational efficiency and availability of power grid infrastructure, providing innovative development. IDGC of Centre's specialists made a significant contribution to the preparation of the electric grid complex of the Sochi region for the XXII Olympic Games and ensured its reliable operation during them. /p>
The meeting discussed in detail the issues related to the implementation of the investment program. The amount of commissioned last year facilities is: power lines – 5,689 km, transformer substations – 1,362 MVA. In 2013, the 110 kV substation "Novoselki" was commissioned in the Yaroslavl region; reconstruction of the 110 kV overhead line "Motordetal — Kostroma — 1" and "Zavolzhskaya 1,2" with entries into the substation "Central" was performed in the Kostroma region; and some comprehensive reconstruction of the 110 kV substation "Gorodischenskaya" was completed in the Bryansk region.
The main part of the meeting was devoted to discussion of the implementation of the priorities for the company in 2014. Among them – the preparation for the autumn-winter 2014-2015 operation period, realization of investment and maintenance programs, achievement of planned indicators of reliability of power supply, further optimization of the grid connection procedure for customers, and development of a unified contact centre of the company.