17 March 2014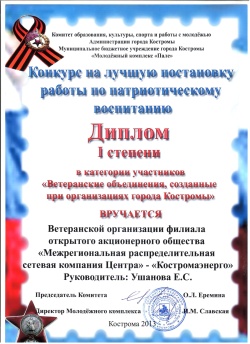 The aim of the competition was to promote the development of an effective system of patriotic education of residents in the city of Kostroma. The regional competition was attended by veterans' associations, non-governmental organizations, initiative groups of citizens, institutions of education, culture and youth of the city of Kostroma.
The victory of the veterans' organization of Kostromaenergo is deserved, because during the year there were diverse activities organized by the staff of both Kostromaenergo and the Veterans' Council. These include a meeting in the museum of the Kostroma power system for the Annals of labour glory, an action "Victory Banner Relay", creation of "Power Engineers' Alley", a chess tournament, the exhibition "Gifts of Autumn", natural history trips in the Kostroma region and much more. Traditionally, Kostroma branch IDGC of Centre celebrates the Victory Day. The Youth Council always participates in all events in the life of veterans.
Currently the public veteran organization of IDGC of Centre - Kostromaenergo division unites 799 people not only in the regional centre, but in all districts of the region. Each veteran finds a hobby to his or her liking. Since 2012 the Veterans' Council, an active and proactive collective, has been headed by Ekaterina S. Ushanova. Positive, inexhaustible creativity, a great sense of humour and leadership have always been the features of this amazing woman, who worked till 2007, until her retirement, as the head of the planning economic department of IDGC of Centre - Kostromaenergo division.
"Winning the competition among veterans' organizations on the best work on patriotic education, conducted by the results of 2013, is very important for us," says the chair of the Veterans' Council Ekaterina Ushanova. "Patriotic work is an important component of the social policy of IDGC of Centre - Kostromaenergo division. Interaction between the Youth Council and the Veterans' Council of the enterprise not only strengthens the connection between generations, brings respect for elders up, but also creates a corporate spirit, unity of purpose and interests. Experience that veterans convey to the youth during joint activities - memory evenings, the creation of the Annals of labour glory, joint trips, theme parties are an integral part of making the spirit of Kostroma power engineers."