5 March 2014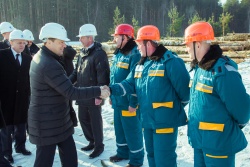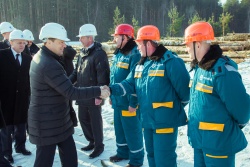 General Director of JSC "Russian Grids" Oleg Budargin had a working visit to the Kostroma region, where he inspected the state the distribution electric grid complex, which is under the control of a subsidiary of JSC "Russian Grids" - IDGC of Centre.
Together with General Director of IDGC of Centre Oleg Isaev the head of "Russian Grids" examined high-voltage lines "Zavolzhskaya-1" and "Zavolzhskaya-2", on which large-scale reconstruction was completed in 2013. Implementation of the project allowed to significantly increase the capacity of overhead lines of Kostroma, improve the reliability of electricity supply to consumers of the most part of the regional centre and part of the Kostroma region. The lines are the main energy arteries of Kostroma and adjacent to the city areas. Well-being of Kostroma, functioning of the economy and social facilities of the regional centre depend on their reliable operation.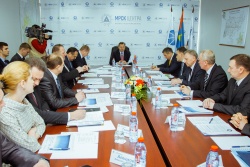 Also during the visit Oleg Budargin held a production meeting with heads of IDGC of Centre and "Kostromaenergo". Its main themes were further modernization of the electric grid complex of the Kostroma region, participation of power engineers in investment projects implemented in the region, as well as other current issues, including associated with increased availability of electric grid infrastructure.
Head of "Russian Grids" put to the meeting's participants a number of priorities, which included progressive shortening of time frame to eliminate consequences of technological failures, improving the quality of work with consumers, formation and development of human resources.
"Task number one for Kostroma power engineers and all of us is the maintenance of existing assets. For the rate we get, the consumer requires us to provide reliability!" stressed Oleg Budargin.
Head of "Russian Grids" also met with the staff of "Kostromaenergo", discussed the ongoing work and future activity directions. The meeting ended up with rewarding the company's specialists, who made the greatest contribution to the safe operation of Olympic power grid facilities in the Sochi power district. Oleg Budargin gave them certificates of honour and gratitude of JSC "Russian Grids".