27 February 2014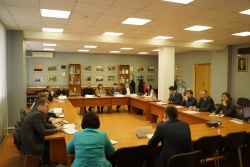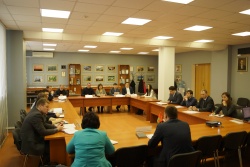 During the event participants discussed the most pressing issues. The main ones are related to increasing availability of power grid infrastructure. In the context of this topic, the participants raised the question of using the reserve capacity that is not used by the applicant.
The Council meeting was attended by Deputy Director for development and sale of services Alexander Kosolapov, Chairman of the Lipetsk Regional Branch of the All-Russian Public Organization "Business Russia" Maxim Zagorulko, General Director of JSC "Lipetsk Energy Retail Company" Sergey Argentov, Chief Electrician of JSC "Lipetsk Municipal Energy Company" Konstantin Voronov, as well as municipal authorities, the business community, and gardening partnerships.
At the meeting Chairman of the Consumer Council was elected. By their unanimous decision it was Maxim Zagorulko, Chairman of the Regional Branch of "Business Russia".
"This is a responsible and important problem. Participation in the work of the Council will allow us to identify the most effective ways of business development, and hence to increase the investment attractiveness of the region," commented Maxim Zagorulko.
"For grid connections we have to construct new substations, which is becoming increasingly difficult in the conditions of tariff freezing. In this regard, it would be advisable to develop a mechanism that stimulates consumers to reduce unused capacity," stressed heads of Lipetskenergo.
Special attention was paid to the need to develop mechanisms for the settlement of relations between the gardening partnerships and energy companies on issues of grid connection and maintenance of networks.
Next meeting of the Consumer Council is scheduled for June 20, 2014. It is planned by the Council's participants to discuss implementation of the state task of energy conservation, "Road Map" for grid connection, development of a consumer awareness system, as well as execution of the investment program of the branch for 2015.
"The work of the Council is an effective mechanism to address the most pressing issues concerning the interaction with consumers. The outcome of these meetings will be to develop expertise, which will be a guide to action, and in some cases – an initiative for making the important topics in the legal structures of different levels of government," stressed Alexander Kosolapov.