23 January 2014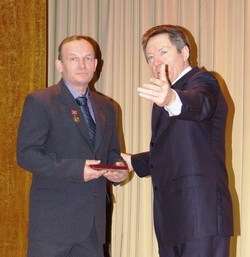 To commemorate the 60th anniversary of the Lipetsk region employees of IDGC of Centre — Lipetskenergo division were awarded commemorative medals «For the glory of the Lipetsk region». The awards were handed over to the power engineers by the regional head Oleg Korolev in the course of a solemn meeting held at the administration of the city.
Among the awarded there are honorary power engineers of the Russian Ministry of Energy and honorable veterans of Lipetskenergo: Nikolay Ogarkov, Alexander Butuzov, Vladilen Nekhoroshev, and a senior operator of the operational and technological service of the Grid Control Centre of the branch Sergey Pavlov, who has worked 30 years for the benefit of the region; an electrician to repair overhead power lines of the production site of the power line service of the high-voltage grid office of Lipetskenergo Mikhail Levtsov, whose length of work in the region is 37 years, and a driver of the car of a section of Lipetsk Distribution Zone of the mechanization and transportation service of the logistics and material management of the branch Victor Grechishkin, who has been conscientiously working in the Lipetsk land for the 40th year.
«Remaining faithful to the profession for decades, they have made a significant contribution to the development of the electricity industry and our region. The work of these power engineers has been distinguished with awards many times and the medal "For the glory of the Lipetsk region" is another proof of the importance of their work,» stressed the HR head Katerina Mushnikova.