23 January 2014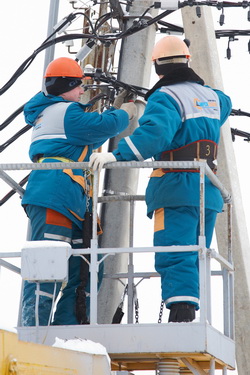 IDGC of Centre — Bryanskenergo division has summed up the year's activities for the implementation of the repair program for electric grid facilities. In 2013, on the main grid specialists of the Bryansk branch of IDGC of Centre renovated 887.9 km of overhead power lines of 35-110 kV, which is 13.3% more compared with 2012. Six substations of 35-110 kV were comprehensively repaired and ten power transformers of 35-110 kV were overhauled (previous year — six and eight, respectively). 803.13 hectares of ROWs were cleared along overhead power lines — 9.3% more than in 2012.
The focus of the program was given to repair facilities where defects were identified affecting the operation of equipment and in respect of which there are appropriate regulations of supervision bodies. It is expected that the work performed will allow to improve the quality and reliability of electricity supply to consumers.
The branch has outlined the volume of the repair program implementation for 2014. In the given period, it is planned to repair 887.7 km of 35-110 kV overhead lines and 2,634.2 km of 0.4-10 kV overhead lines; to clear over 833.77 hectares of ROWs along 0.4-110 kV overhead lines; to comprehensively repair seven substations of 35 — 110 kV and 691 transformer substations of 6-10 kV.
«The main principles to make the repair program in 2014 remain the same as in the previous year — it is aimed primarily at improving the reliability of power facilities operation in the service area of Bryanskenergo,» stressed Deputy General Director of IDGC of Centre — Bryanskenergo division director Roman Stefanov.