28 December 2013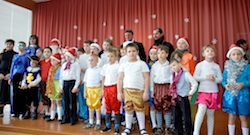 IDGC of Centre, as a socially responsible company, pays serious attention to the implementation of projects aimed at assisting institutions where children grow and learn with disabilities, or deprived of parental care. The activity of IDGC of Centre — Tambovenergo division serves as a vivid example, which has been for more than twenty years a patron of a special (correctional) boarding school # 2 for the deaf and hard of hearing children in the Tambov region. Representatives of the management of the branch provide assistance and support to the educational institution to improve the material and technical base, regularly visit its pupils during each academic year.
The regular such visit took place on the eve of the New Year celebrations. The power engineers, following their good tradition, visited the children at their New Year's tree holiday, and wished them a Happy New Year and presented gifts.
The administration of the boarding school expressed their gratitude to the patrons for sensitivity, understanding and warm attitude towards the pupils. The school director, Nadezhda Dementieva, handed them a letter of thanks addressed to Deputy General Director of IDGC of Centre — Tambovenergo division director Vladimir Syschikov.
And the children presented a creative gift of the educational institution to their guests — a great holiday show featuring fairy-tale characters, Father Frost and the Snow Maiden. As part of the concert program, they performed new dance routines, as well as introduced the viewers to a special kind of performing arts — singing with gestures.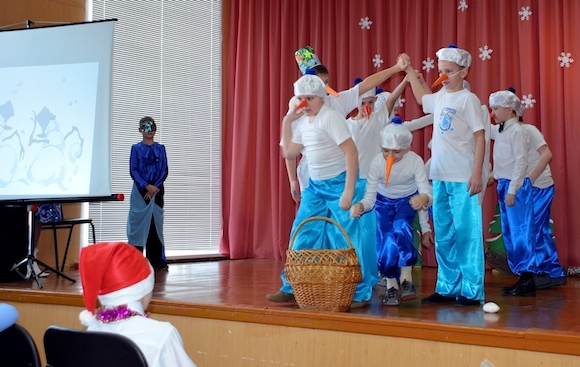 «The children are grateful to Tambovenergo's representatives not only for the gifts that they traditionally give them for the New Year, but also for their attention,» says the director of the boarding school Nadezhda Dementieva. «Participation of power engineers in the lives of children allows them to grow and feel more confident around the world.»
«Children with disabilities, perhaps even more than others, need care, attention and support. They need to feel that they are not forgotten. Therefore, employees of our branch every time they come to visit the children try to give them a piece of their heat,» underlines the head of the administration of IDGC of Centre — Tambovenergo division Andrey Remizov.