27 December 2013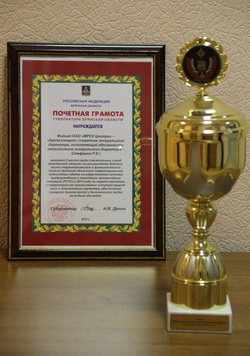 IDGC of Centre — Bryanskenergo division took the second place among the civil defense rescue services of the Bryansk region on the results of operation of the territorial and functional units of the Bryansk regional territorial subsystem of the unified state system of prevention and liquidation of emergency situations in 2013 to protect the population and territories from emergency natural and man-made disasters, fire safety and safety of people on the water bodies. This decision was made at the recent meeting of the regional administration on summarizing the activity of the regional emergency management subsystem in 2013. The branch's activity in civil defense and emergencies has been highly appreciated, and it was awarded an honorary diploma and a cup of Governor of the Bryansk region.
The level of preparation of Bryanskenergo in the field of civil defence and emergency situations was assessed by the special integrated commission of the Bryansk region, whose mandate is to check the state of emergency management in the region. In particular, this work was carried out in the structural units of the branch in Dubrovsky, Navlinsky, Starodubsky and Zlynkovsky districts of the region. The commission checked how training was organized there and how development and implementation of plans for the prevention and elimination of emergency situations was performed. The checks were completed with command-and-staff training exercises. Based on the check the commission commended the high level of preparation of officials and units of civil defense and emergency forces of Bryanskenergo.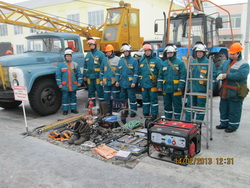 According to Advisor to General Director, Deputy General Director of IDGC of Centre — Bryanskenergo division director Roman Stefanov, in recent years the company has paid the most serious attention on civil defense and emergencies, and the level and quality of the organization of this work for the fourth consecutive year is among the best organizations in the region. «This performance is the result of systematic work and responsible attitude on the part of both the branch and Distribution Zones managers and all staff of Bryanskenergo involved in this area,» he thinks.