10 October 2013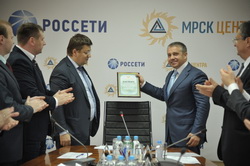 A subsidiary of JSC «Russian Grids» — IDGC of Centre has successfully completed the preparation for the operation through the autumn -winter 2013/2014 peak load period. The certificate of readiness for operation in the heating season was handed to General Director Oleg Isaev by the head of the Commission of the Ministry of Energy, Director of the Department of Electric Industry Development of the Ministry of Energy Sergey Vasiliev.
The Commission of the Ministry of Energy, which also included representatives of the RTN, the Russian Emergencies Ministry, the System Operator, Russian Grids and FGC UES, evaluated the results of the preparation of IDGC of Centre to operate through the heating season. The results of the check showed a high degree of readiness of electric grid facilities of IDGC of Centre for the autumn -winter period.
Similar to last year, IDGC of Centre received its certificate of readiness a month earlier than before, having fully implemented all the planned activities. As part of the repair campaign and the implementation of the investment program in the service area of the company about 18,438.9 kilometres of lines of different voltage classes (0.4-110 kV, including cable lines), 131 substations of 35-110 kV (with a complex method) and 3,989 transformer substations of 6-10 kV were renovated. At 100% an emergency supply of equipment was stocked. Vehicles and special machinery were maintained to work at low temperatures. 90 emergency mobile crews were formed. Check of readiness for operation of protection schemes and automation was completed. All the company's branches entered into an agreement on cooperation in the prevention and mitigation of accidents with the local administrations and units of the Russian Ministry of Emergency Situations, airlines, territorial grid companies and contractors.
To date, in all regions of operation of IDGC of Centre, its electricity grid infrastructure is well prepared for a period of low temperatures to ensure reliable power supply to consumers. The company's staff being professional, responsible, having extensive practical experience is ready to do everything necessary for the smooth functioning.