1 August 2013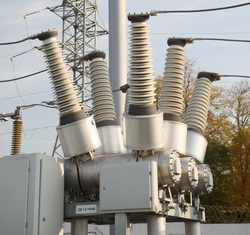 IDGC of Centre — Tambovenergo division has completed grid connection of the construction site of Mordovia sugar factory, one of the largest investment projects in the region worth more than 9 billion rubles. Completion of this grid connection phase of a new facility to the company's networks is strategic, as the provision of high-quality and reliable electricity supply at the very stage of construction will allow in the shortest possible time to perform the installation and commissioning of equipment of production lines of the factory.
The total capacity of the connected facility is 2 MW. The cost of the work performed is 1.3 million rubles. Agreed to the terms of the contract in the next stages the power engineers will install bays of 10 kV complete distribution device of external installation with a vacuum switch and microprocessor-based relay protection and automation devices at the 110 kV substation «Mordovia», and install a vacuum circuit breaker with microprocessor-based devices in a 10 kV backup bay of the 35 kV substation «Chernyaevskaya».
Start-up of the plant is scheduled for the IV quarter of 2013. It is planned that initially the production of Mordovia district will be able to process up to 9,000 tons of beet per day. This plant is the largest in the country. Overall, the plant is designed for processing 12 tons of sweet root crop and 1.5 million tons of raw sugar per day.
«The development of the agricultural sector is a priority in the policy of the Tambov region. Performing the grid connection of such a large processing facility as Mordovia sugar factory, Tambov power engineers contribute to the development of the region at faster pace strengthening its energy infrastructure,» underlined Deputy General Director for Technical Issues-Chief Engineer of IDGC of Centre Sergey Shumakher.