19 February 2013


For services in the area of energy and many years of hard labour in accordance with Presidential Decree of 02.02.2013 # 56, Deputy General Director — Chief Engineer of IDGC of Centre Sergey Shumakher was given the honorary title «Honoured Power Engineer of the Russian Federation».
Sergey A. Shumakher has been working at the power industry since 1977. All Mr. Shumakher's professional activity is aimed at addressing issues to ensure reliable operation of electrical networks, innovative solutions and effective projects.
With the direct participation of Sergey Shumakher in 2004 IDGC of Centre and Northern Caucasus, JSC (now IDGC of Centre) was incorporated, which is considered the basic organization of IDGC Holding for the development and improvement of advanced technical solutions, the implementation of modern technology process management methods.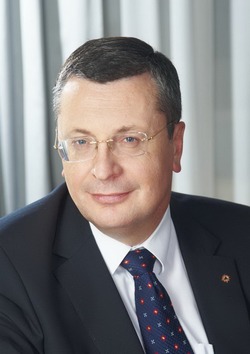 Under Sergey Shumakher's supervision operative and process control in the distribution grid complex was recreated, in the company's branch Grid Control Centres with operational functions were created, the target program to improve reliability was developed and successfully implemented in many aspects, the «Technical Policy of IDGC of Centre» is being realized; as part of the corporate information resource management system based on the SAP/R3 platform an automated fault recording system and foundation of an asset management system was developed and implemented. At present, this system has 5358 users, 24,538.000 functional locations and 12,439.612 pieces of equipment have been created, the results of 14,383.000 measurements are stored.
With Sergey Shumakher's participation IDGC of Centre shifted to a two-tier management structure that allowed to optimize the management costs and speed up management decisions, principles of a matrix management system were implemented based on the process — project management, and principles of corporate culture were being implemented.
Currently under Mr. Shumakher's direction IDGC of Centre is implementing a project in distribution and outage management system (DMS/OMS) based on the Telvent DMS software, the «Concept of creating distribution networks of 0.4-10kV with transfer power transforming points to the consumer» is under realization, implemented the tool «Mobile Solutions» as part of the innovative project «Creating software system for planning, recording and control of the repair and maintenance of electrical networks program execution».
For the effective operation of IDGC of Centre's activities, personal contribution to the reliable power supply of consumers of the Russian Federation Sergey Shumakher was repeatedly awarded diplomas and letters of thanks of RAO «UES of Russia» and the Russian Ministry of Energy, he was awarded the title «Honorary Power Engineer», «Honoured Worker of UES of Russia», «Veteran of Energy», «Veteran of IDGC Holding », and he was awarded two gold medals of Exhibition of Economic Achievements (All-Russian Exhibition Centre).