22 January 2013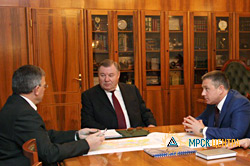 Today, 22 January, a working meeting of Acting General Director of IDGC of Centre Oleg Isaev and Governor of the Orel region Alexander Kozlov took place. The subject of discussion was improving the reliability of power supply of the Orel region, priorities and major projects of the investment program for the coming years, and aspects of grid connection to electrical networks in the region.
Oleg Isaev underlined that the company is operating through the autumn-winter 2012/2013 period in a stable way, ensuring uninterrupted operation of the power grid complex, in the Orel region as well. This was preceded by extensive work to prepare for the autumn-winter period; last year the repair program of IDGC of Centre — Orelenergo division was more than 70.63 million rubles. In 2013, this figure will exceed 75 million rubles.
In 2012, the Orel branch implemented grid connection to its networks of more than 1,000 facilities with a total capacity of 57 MW. Among the large-scale socially important projects is the grid connection of a new unit of the Livenskaya CHP with its capacity of 30 MW. This project will remove the shortage of electric power in several areas of the region at once, increase the reliability of power supply of the Livensky industrial hub.
The parties also discussed the implementation of a long-term investment program of IDGC of Centre — Orelenergo division for 2012-2017 and implementation of projects in the area of energy efficiency and energy conservation. Thus, in 2013, the company under a regional target program plans to invest 595.6 million rubles. These funds will be used both for construction of new power facilities taking into account growing needs of the region and interests of potential investors, and modernization and reconstruction of existing networks.
During the visit to the Orel region, Oleg Isaev laid flowers at the monument to Hero of the War of 1812, General Alexey Ermolov.