11 January 2013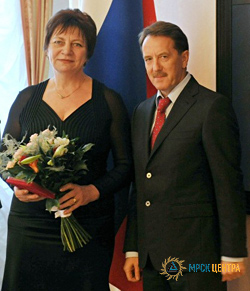 Governor of the Voronezh region Alexey Gordeev on behalf of the Russian President Vladimir Putin presented state awards to residents of the Voronezh region, including Electrician of operational and technological Service of the Grid Control Centre of IDGC of Centre — Voronezhenergo division Lyudmila Zubairova. For her contribution to the development of the fuel and energy complex and many years of hard work, she was awarded the title "Honoured Power Engineer of the Russian Federation".
Lyudmila G. Zubairova Voronezhenergo has been working for over 35 years. She started her professional career at the company in the position of Electrician of degree 2 in 1976. She repeatedly participated in reconstruction and restoration of power lines and substations, and many times, regardless of her personal time, she was involved in work on the elimination of technological disturbances at night and on weekends.
With her daily work, responsiveness and good deeds Lyudmila Zubairova earned high prestige among her peers. For her work at the company in 2003 she was awarded the "Letter of Gratitude of the Ministry of Energy of the Russian Federation", and in 2007 she was listed on the honour roll of Voronezhenergo.
"Today we are celebrating not only your merits, but also the work of your labour collectives, your relatives and friends, who to help and support you in all your endeavours," — underlined Alexey Gordeev.