5 January 2013
By the Decree of the President of the Russian Federation, Vladimir Putin, two employees of IDGC of Centre — Kostromaenergo division were given state awards.
For his contribution to the development of the fuel and energy complex and many years of hard work the title "Honoured Power Engineer of Russia" was given to Chief of Kadyysky Distribution Zone Alexander Shkotov and Master of a crew operating distribution networks of Sharinsky Distribution Zone Boris Naumov.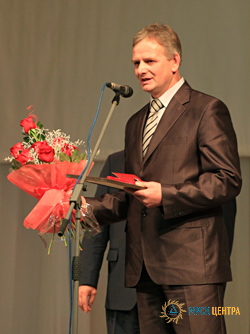 Alexander B. Shkotov started his work at Neysky Electrical Networks in September 1995 as a senior master of Kadyysky Distribution Zone. From 1997 he was moved to the position of Chief of Kadyysky Distribution Zone. Alexander intelligently organizes the work of the Distribution Zone in the reform of the power system, special attention is being given to reducing energy losses. Under the leadership of Alexander maintenance crews of Kadyysky Distribution Zone in June 2010, took part in eliminating the consequences of the hurricane in Ostrovsky, Sudislavlsky, Buisky and Soligalichsky districts of the Kostroma region. In no time the power supply was restored in homes, health care facilities, summer camps and other important public facilities.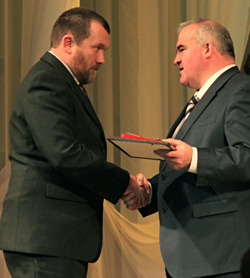 Boris N. Naumov began his work at Kostromaenergo in 1983 as an electrician, operating distribution networks of category 3 in Sharinsky Distribution Zone. With his direct involvement the construction of two new power lines of the electric grid facility of the substation "Star", "Dawn" and "Dawn" — "Kronostar" was performed. These events became a landmark not only in overcoming the crisis in the economy of the region, but also allowed to start seriously increasing its investments in the grid facilities.