24 December 2012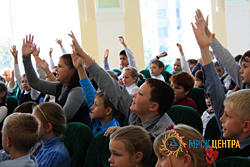 The State Institution of advanced professional education (retraining) for specialists "Bryansk Institute for Advanced Training in Education" in the name of President Ivan Pikhenko thanks the management of IDGC of Centre for systematic efforts to prevent cases of children's injuries in the secondary schools of the Bryansk region.
"The specialists of your company conduct important preventive work so as to maintain the life and health of the younger generation of Russians. Holding such lessons to prevent children's injuries at electrical grid facilities, meaningful conversations, providing bright handouts, demonstration of videos during lessons promotes the implementation of the today's principal objective — the upbringing and education of children, taking into account their life safety," — underlined the letter. — Concern for the safety of children has become a national problem, bringing together the region's education system and the large energy company of Russia."
IDGC of Centre, being a socially responsible company, is taking drastic measures of informational and educational, technical and organizational character to prevent occurrence of electrical injuries at power facilities. IDGC Holding's Group of Companies has its Targeted Communication Program in place to prevent injuries of third parties.
Under it preventive lessons, meetings with children, and meaningful conversation are held. Power engineers of Bryanskenergo, who know what a serious threat to humans may cause a violation of basic electrical safety requirements, are frequent visitors to educational institutions of the Bryansk region.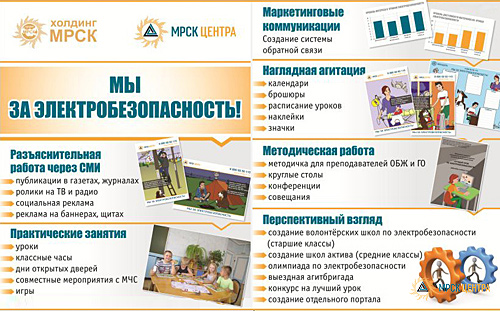 In all regions of the service area of IDGC of Centre, including the Bryansk region, round tables have been held this year at which innovative ideas and proposals for the system to minimize the risk of children's electric shock were made. There was a need marked to consolidate the efforts of all stakeholders from educational institutions, the Regional Board of Education and Science to the Interior Ministry, RTN, Utilities and Energy Committee and the media.
Specialists of Bryanskenergo constantly learn new methods and forms of work to prevent children's electrical injuries. Since the beginning of the school year the branch's employees have started holding workshops to teach electrical safety for teachers of life safety in schools in Bryansk and the Bryansk region. To help the teachers the power engineers have also prepared a handbook — a collection of plans and summaries of lessons on the prevention of children's electrical injuries, themed games, posters, booklets, colouring books, cartoons and movies. Soon employees of Bryanskenergo are planning to help life safety teachers prepare schoolchildren for Life Safety Olympics.
In the future, IDGC of Centre — Bryanskenergo division will continue to work in this direction and will be looking for new forms and methods of prevention of children's injuries.