19 December 2012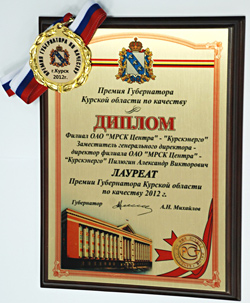 IDGC of Centre — Kurskenergo division became a prize winner of the Governor of the Kursk region in quality in 2012.
The assessment of the companies that were award candidates was based on the model and evaluation criteria of the European Quality Award for quality and the RF Government Award for quality. These models, used for self-evaluation of an organization, are a modern tool of focused innovation improvement of performance and competitiveness.
The use of the self-evaluation method allows the company to look at its operations from the perspective of an integrated approach to compare itself with the best organizations, to identify areas where improvements are needed, to plan and implement these improvements.
IDGC of Centre has implemented its quality management system (QMS) that complies with the requirements of the international standard MS ISO 9001:2008 (GOST R ISO 9001-2008). In order to implement the strategic goals and the effective operation of the QMS a matrix management system operates in all branches of the company, which is based on the integration of the target, process, project, organizational and functional management. This greatly increases the efficiency of each employee individually, branch and IDGC of Centre as a whole.
Expert Committee of the contest highly appreciated the work on the implementation of modern management techniques and results achieved by IDGC of Centre and its branches.
The award for the quality will provide IDGC of Centre — Kurskenergo division with the image of a leader in the region, reputation of a reliable supplier of a high quality and competitive service, will help to attract new partners and customers, increase market share, and thus open up new business opportunities.