17 December 2012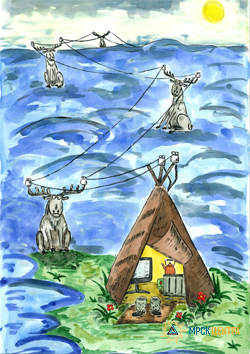 Stanislav Pavlov, the son of an electrician for operating distribution networks of Cheremisinovsky Distribution Zone of IDGC of Centre — Kurskenergo division Andrey Pavlov, was among the first winners of the Russian United contest of children's drawings "Unified Grid — one country" among the children of employees of IDGC Holding and FGC UES. He won third place in the oldest age group of 11-14 years.
For the Pavlovs painting can be called as the family's business. Stanislav himself participates in many art contests. Father — Andrey Pavlov — most of his free time devotes to arts. Stanislav's great-grandfather was a magnificent artist — Ivan D. Pavlov.
Please, be reminded that the traditional drawing contest was organized by FGC UES. This year, children of employees of IDGC Holding took part in it for the first time. This was reflected in the title of the contest theme — "Unified Grid — one country", and in the designated task — to reflect the work of the entire power grid in various regions of Russia in drawings.
The contest was held in two stages. Qualifying — at the branch level of IDGC, FGC and Holding Company — and the final one, where there were only the best works. The drawings were estimated by the Commission on a number of key criteria: compliance with the stated theme, the general perception, originality, quality of performance, and artistic style. Regarding the choice of a particular theme, there the young artists were only limited by their own imagination.
Competition in the contest this year was serious: over 250 works were presented to the jury — much more than in previous years. The drawings amazed with their variety: they reflected the topic of the future merger of FGC and IDGC, wide geography of the country's electrical networks, team spirit, work in extreme weather conditions and much, much more. Each work was different with eccentricity of the author's thinking, vivid imagery, and positive vision of the world. Therefore, it was not easy for the jury to determine the winners: it is enough to say that as a result in two of the three age groups the third place was shared by two participants at once.
The awarding ceremony of the contest's winners will take place in late December.