6 December 2012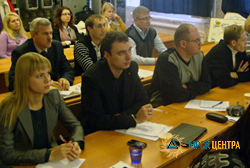 Representatives of branches of IDGC of Centre became participants of the course "Improving the effectiveness of the internal audit of the QMS", at which they received the theoretical knowledge and practical skills of preparing and conducting internal audits.
The training was held in the Tver production and Training Centre and Voronezh Training Centre "Energetik". During the course they were learning the basic principles and concepts of quality management system, the features of the audit process, the management of its program. Much attention was paid to the actions of auditors, their responsibility and competence.
According to Head of Integrated Management Systems Office of IDGC of Centre Pavel Madyuskin, initially the QMS criteria for the internal audit were determined based on the requirements of ISO 9001. However, during the operation and further development of the system, implementing modern tools of process management it became necessary to deepen the audit, transfer it to a new qualitative level by improving the efficiency of processes and the inclusion of elements of business analysis.
Specialists of "RDTEX" for IDGC of Centre developed a training course aimed at optimizing the system approach to the organization and conducting internal audit of the QMS, to increase the effectiveness of internal audits. This course, which is devoted to topical issues, was highly praised by the trainees — practicing internal auditors of quality management departments of branches of IDGC of Centre.
The course program also included a study of the key principles of the International Standard for auditing management systems — the basic document guiding internal auditors. Participation in the workshop provided an opportunity to the company's employees to review the professional approach to internal audits of the QMS, to get valuable advice and answers to questions in this area, and to exchange experiences with colleagues from other branches. Upon completion of the training, each participant received a certificate.