3 December 2012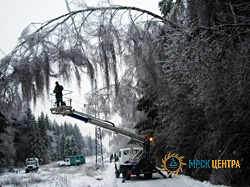 A powerful cyclone that raged in the Central Region on November 29 has caused significant damage to power facilities of the branch of IDGC of North-West — Pskovenergo and massive power outages across the Pskov region.
IDGC of Centre did not stay aside and helped colleagues from Pskovenergo, sending 30 November four mobile crews of the branches of Smolenskenergo, Yarenergo and Bryanskenergo to the affected areas. On Sunday, they were joined by other two crews of Velizhsky and Demidovsky Distribution Zones of Smolenskenergo.
The crews have extensive experience in emergencies of natural character. Thus, in December 2010, they participated in the restoration of power supply to residents of the Moscow region, which had been violated as a result of freezing rain.
The crews are fully equipped with facilities and tooling for clearing ROWs. There are also three available hydraulic lifts; to work in the dark they are using a light tower. The staff is moving on off-highway crew vehicles that provide sleeping space for recreation, meals, and have heating and ventilation systems installed. This allows the power engineers of IDGC of Centre to work around the clock without breaks.
The crews of Smolenskenergo are clearing ROWs along conductors in the service area of ​​Distribution Zone # 1 of Production Department "Eastern Electrical Networks" of the branch of IDGC of North-West — Pskovenergo, located in the village of Bezhanitsy. The mobile crew of Navlinsky Distribution Zone of Bryanskenergo of five people is working in the service area of Western enterprise of Production Department "Pskovenergo" in the city of Opochka, and two crews of Yaroslavl power engineers of eight people — at 10 kV Conductor 4606 near the village of Ratkovo and 10 kV Conductor near the village of Kudever.
Currently, thanks to the joint quick actions some positive changes in the restoration efforts in the region have been reached. But the difficult situation on the roads complicates the repair work: ice and snow drifts. In some cases municipal roads have just disappeared and grid facilities have become impassable with snow.
"To get to a failure site is not easy, we first go on the highway, then three hundred metres on foot through wetland. The car does not drive through, so the tools — saws, hatches and other equipment — we have to carry on ourselves,"- says Deputy Head of distribution networks Office of Bryanskenergo Vladimir Deriy that accompanies the mobile crew of Bryanskenergo.
The employees of IDGC of Centre are ready to work up to full power restoration in the Pskov region.