25 October 2012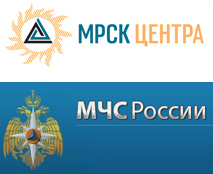 At the National CMC EMERCOM of Russia a video conference call meeting was held to sum up the collaborative work of operational duty services of the National Centre and executive authorities. It was attended by managers and specialists of IDGC of Centre.
One of the themes of the meeting was to further improve the interaction of territorial units of EMERCOM of Russia and power engineers at liquidation of emergencies, including mass technological disturbances at power facilities.
Currently, between branches of IDGC of Centre and territorial departments of EMERCOM of Russia there are signed agreements in which between situational-analytical services now there is timely exchange of information on violations at power facilities or their threat, and the availability of emergency reserve. A videoconferencing system was also implemented with the regional centres for Crisis Management of EMERCOM of Russia, there is a system of electronic information exchange in operation. This allows as soon as possible (up to two hours) to join forces, facilities and resources that may be involved in the elimination of possible contingencies. Simultaneously, information interaction is made through the press services EMERCOM and divisions of public relations of the branches of IDGC of Centre.
In 11 regions of Russia there are regional interagency Headquarters for ensuring electricity supply security. This form of collaboration of power engineers of IDGC of Centre, local authorities of the regions and EMERCOM of Russia leads to the production of clear joint actions to prevent power outages and operational response.
In order to improve staff development, to practice operational actions in the event of an accident involving EMERCOM of Russia 11 joint exercises were conducted, 194 emergency response trainings were held for introduction of schedules of temporary outages.
Discussing the situation on the ground, the participants of the video conference meeting noted the positive cooperation between experts of the regional offices of EMERCOM and representatives of electric grid companies.
"We believe that clear coordination of power engineers of IDGC of Centre, EMERCOM and the authorities, their harmonious collaboration will allow to provide reliable and quality power supply to our customers, and if necessary, quickly to eliminate effects of adverse weather conditions and natural disasters, — underlined Deputy General Director for Technical Issues — Chief Engineer of IDGC of Centre Sergey Shumakher. — We are all working for the people, so that their homes will always have light and heat."