22 August 2012
The substation 110 kV "Soviet" in the city of Bryansk is one of the strategic energy facilities, the reliable operation of which results in the energy security and future development of Soviet district of the Bryansk region with a population of over 110,000 people. The substation provides power to the city mains, plant "Silicon", poultry farm "Snowball", housing facilities, and commissioned new residential areas. Therefore, the large-scale reconstruction of the facility is given the highest priority both from power engineers of IDGC of Centre, and from the regional authorities.
The first stage of the reconstructed substation "Soviet" completed in May 2010: a 40 MVA transformer was commissioned, an indoor 6 kV switchgear was installed, integrated with a control room, modern gas-insulated and vacuum switches, disconnectors with remote control were installed, and the outdoor 110 kV switchgear was renovated. After the power facility reconstruction the reliability for customers was significantly increased and the conditions and reserve for the provision of technological connection to electric grids were created. Actually the substation "Soviet" became the most advanced and powerful center of power of Bryansk.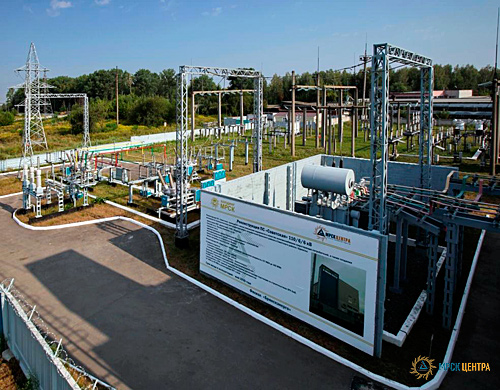 At the moment, IDGC of Centre is completing the second stage of the reconstructed substation. In the course of the work the installation of a power transformer capacity of 40 MVA, three gas-insulated 110 kV circuit breakers, five 110 kV disconnectors with motor drives and 38 bays of 6 kV in the new indoor switchgear was performed, the secondary side of relay protection and automation is being installed. The installation and commissioning of the bays was performed. After the commissioning of the new transformer the total capacity of the substation "Soviet" reached 105 MVA.
The start-up of the second stage will bring the substation "Soviet" from the category "unavailable supply center", which will greatly enhance the possibility to develop the regional center's economy and improve the reliability of power supply.
The total investment in the project will amount to more than 400 million rubles.