21 August 2012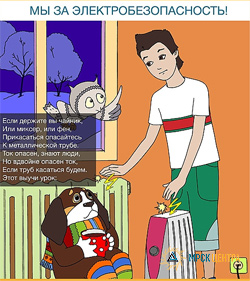 Representatives of IDGC of Centre will participate in the first All-Russian Practical Conference "Children's electrical safety above all" to be held in Veliky Novgorod, 22-24 August 2012 at the initiative of IDGC Holding.
Within the conference a targeted communications program for the prevention of children's electric injuries will be presented, an exhibition of visual aids will take place, and seminars will be also held to exchange experiences on this issue and master classes in educational institutions.
IDGC of Centre pays increased attention to the work to prevent children's electric injuries. Employees of the company hold special classes in schools and day care centers, children's homes and camps, organize the topic's discussion at round tables involving not only power engineers, but also representatives of the executive and legislative authorities, educational institutions, produce specialized literature, visual aids and guidelines.
The experience of IDGC of Centre in Veliky Novgorod will be presented in the form of presentations, exhibits, catalog materials, and most importantly — the active participation of representatives in thematic workshops and other events of the All-Russian Practical Conference.