20 August 2012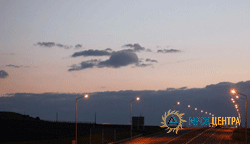 IDGC of Centre won the bidding for the sale of the municipal electric grid assets of Stary Oskol urban district of the Belgorod region. The trading in the form of a public offering took place August 17, 2012. The size of the transaction amounted to 416 059 965.99 rubles without VAT.
The purchase of the electric grid complex of Stary Oskol — the second largest city of the Belgorod region — suggests the completion of the consolidation of the electric grid of the Belgorod region. Today the share of IDGC of Centre to deliver electricity at the market in the region is more than 98%.
The structure of the acquired electric grid includes: 2644 assets of movable and immovable property, 153.8 km of overhead power lines of 110 kV, 2494.2 km of power lines of 6-10 kV, five 110 kV substations with a total installed capacity of 292 MVA, distribution and transformer substations of 6-10/0.4 kV with a total installed capacity of 273 MVA. The total amount of the acquired property was more than 14,533 conventional units. The power grid facilities of Stary Oskol are in good technical condition.
It should be noted that prior to the acquisition the maintenance of the electric grid was performed by Belgorod branch of IDGC of Centre in accordance with the lease agreement, signed in 2004, and then extended in 2009.
The timely maintenance and high level of training of personnel allowed to maintain the power grid facilities of Stary Oskol in proper condition. Getting it in the property will allow to make significant investments in the acquired facilities, to develop the power grid complex to meet the growing needs of the region.
"The consolidation of the power grid assets has been and continues to be one of the priorities of the company. The purchase of the electric grid of Stary Oskol is essential, first of all, in terms of improving the system reliability of power supply in the region. I'm sure it will improve the quality of power supply of residents in Stary Oskol. As the experience of other regions shows, the integration of electric grid has a positive impact not only on the quality of power supply, but also creates a prerequisite for optimizing tariff-balance solutions. I would also note that Stary Oskol — a major industrial center of the Belgorod region. Active development of industrial companies, small and medium enterprises, housing development requires a corresponding development of the grid infrastructure. IDGC of Centre has all the necessary financial and technical resources for the creation, operation and further development of this infrastructure", — stressed General Director of IDGC of Centre Dmitry Gudzhoyan.