18 July 2012
In July 2012 during the business visit of General Director of IDGC of Centre Dmitry Gudzhoyan in the Lipetsk region he met with Head of the administration of the Lipetsk Region Oleg Korolev.
The main topics of the past meeting were the issues of ensuring reliable energy supply and creating the conditions for grid connection to electric networks in the region. Particular attention was paid to the preparation of Lipetskenergo for the upcoming autumn-winter operation period.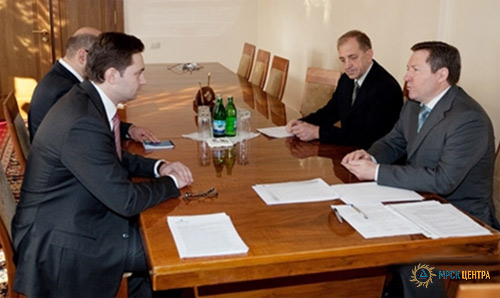 The parties also discussed the implementation of the long-term investment program of IDGC of Centre for 2012-2015 on the territory of the Lipetsk region and the implementation of projects in the field of energy efficiency and conservation. Thus, under the regional program to reduce the loss of energy resources, Lipetskenergo is performing its work on the reconstruction of the street lighting networks using starting and regulating devices and LED lamps. This enhances reliability and efficiency of street lighting networks. IDGC of Centre also participates in the development of innovative projects for the implementation of distributed elements of the so-called small generation.
During the conversation Dmitry Gudzhoyan told Oleg Korolev about the main directions of the Company's policies, plans and objectives for the current year.
The same day General Director held a business meeting in Lipetskenergo devoted to the analysis of the branch's activity for the first half and prospective tasks before the end of 2012. The financial and physical performance indicators of the maintenance and investment programs were reviewed. Special attention was paid to discussion of the project to improve the operational management of the branch.