30.10.2012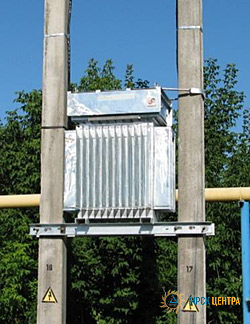 Kostroma power engineers of IDGC of Centre for voltage stabilization in electric grids and increasing transmission capacity of 0.4 kV networks are installing voltage boosters.
A voltage booster — a piece of modern, innovative equipment, which stabilizes and increases the voltage in the grid. Overhead power lines have considerable length, which causes a voltage drop at the end of the line. A large number of single-and three-phase customer loads per phase hinders the uniform per phase load distribution, resulting in a voltage squint. Boosters equalize the voltage squint and raise it to the nominal value, in accordance with the requirements.
With the installation of boosters losses in the networks are also minimized.
In different areas of the Kostroma region there are already 18 of these devices installed and by the end of 2012 it is planned to install other four.
"The use of voltage boosters is an energy efficient technology. It will improve the quality of electricity supply through the use of modern devices in networks,"- comments Deputy Chief Engineer — Head of Distribution Network Office Alexander Chutkov.