29.10.2012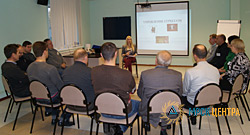 IDGC of Centre — Bryanskenergo division had a training "Stress Management", which was attended by operators of the Grid Control Centre and Districts of Electrical Networks. The purpose of the training — to teach them to cope with stressful situations that arise in the course of professional activity.
The exercise consisted of two parts: theoretical and practical. In the first phase the training leader told employees of Bryanskenergo what stress was, in which cases it arose, in what shapes and forms could occur. Particular emphasis was placed on the features of the stress that grid operators have.
The second part was devoted to training operators with methods of dealing with stress. Head coach told the branch's staff on the existing methods of psycho-physiological and psychological self-regulation. After that, under her leadership the operators mastered techniques of mental and physical relaxation by different methods.
According to the participants the knowledge acquired during the training is relevant to the work of operators. Their practical application in the course of professional activity will help easily survive the stressful situations that arise during emergency responses.
According to Head of Human Resources of IDGC of Centre — Bryanskenergo division Anna Nozdracheva, all operators will have training in stress management. It is also planned to organize similar training for other staff of Bryanskenergo.